Entertainment

Hundred Dollar Baby
Wednesday Evening after the royalty ceremony
9-11pm, Main Stage
Hundred Dollar Baby was established in May of 2013, and hails from the Greater Toledo Area. A cover band with eclectic interests in music, HDB covers classic, 80s, 90s, and modern rock. Their repertoire of hit music is growing as fast as their fan base as people are finding out that HDB has a well-rounded and energetic rock sound. The members of Hundred Dollar Baby were born and raised in Northwest Ohio and want to perform in the name of great music with the people they know. Three of the members graduated from Eastwood High School before they went on to form families of their own.
Brothers Aaron (lead singer/guitar) and Jim Bailey (drums), Nathan Moellenberg (bass), and Jay Ackerman (guitar) make up Hundred Dollar Baby.
Check out Hundred Dollar Baby on Facebook:
www.facebook.com/hundreddollarbabyband
---
Got Milk? A Kids Cow Milking Contest!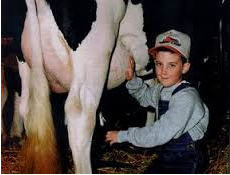 Main Stage, Thursday August 14, 2:45-4pm Registration for Got Milk? 2:15-2:45 at main stage
Come take your chance at milking "Willma" and "Mable"!

"Willma" and "Mable" are life sized wooden cows with rubber teats for milking. You will have two minutes to milk as much as you can from your cow! Each contestant within his/her age category will be judged on amount milked by weight! Prizes will be awarded to the top 3 milkers in each age category!

There will also be three awards given for the best dressed farmer that comes to milk a cow! Wear your farmer gear! There will also be extra trivia and drawings for prizes throughout this event!

Waiver forms must be signed by guardian prior to event. First 20 kids to sign up in each age group will get to milk a cow.
Age Categories:
3-4 year olds
5-6 year olds
7-8 year olds
9-10 year olds
(Age is based on age on day of the event)
---

I Want Animal Magic
Back by popular demand!!!
Thursday, August 14th, 6:30 p.m. Main Stage
Nickelodeon's Michigan Entertainer of the Year. One of the countries most popular exotic animal shows! Not just for children! Adults love the shows as much if not more than the kids! If you love animals, this is the show for you!



---
"The Together Band"
Thursday August 14
9-11pm, Main Stage

The Together Band, established in the early 70s, has been entertaining crowds in a tri-state area for more than four decades. A premier concert band in Northern Ohio, Together provides an action packed show that delivers a classic rock, funk, soul, and feel good music experience for all ages.
Together's musical influences have roots in Motown, R&B, The Beatles, and hits from the 70s and 80s. The band is a 9-piece ensemble with an undeniable rhythm section, electrifying horns, and dynamic vocals from all band members.
The band's foundation comes from brothers Christopher, Kevin, and John Cullen who have played music "together" since their early teen years. The additional members, all with deep professional experience, have come together to form a powerful sound that is second to none.
The band has performed in a three-state area, recorded multiple records, and played in concert with bands such as Ambrosia and Eddie Money along with regional performances all over Ohio.


---
The Not So Newlywed Game
Friday August 15
Main Stage
following the 5 Miler, 9-11pm

Remember the 60's TV game show The Newlywed Game? Join your host Dave Marsh as he channels his inner Bob Eubanks and challenges our local pastors and wives, our local business people, and more for a twist on that wonderful show in The Not So Newlywed Game!

This promises to be a night of fun, mischief and mayhem when an undertaker drives his hearse down memory lane with the local Pemberville folk! Get ready to laugh at and with your favorite pastors, business people, and others with this evening of (sometimes) embarrassing questions! Maybe you know them better than their spouses! Come & find out Friday night!
---
Musical Revue of "Peter Pan "
Main Stage, Saturday August 16
4-4:45pm
Pemberville Children's Theatre Workshop
The Pemberville Children's Theatre Workshop presents a recap of their production, "Peter Pan" which they produced for soldout crowds in early August. The Theatre Workshop provides an opportunity for kids ages 7-16 to hone their theatre skills every summer! More info can be found at www.pembervilleoperahouse.org


---
Chip Richter
Main Stage, Saturday, August 16
7- 8:30 pm
More Fun Than A Kid ... should be allowed to have!
Singer-Songwriter Chip Richter serves up stories, songs, and smiles "Family Style". Chip's Family Concerts feature something on the menu for everyone. It's a recipe for "more fun than a kid should be allowed to have" as Chip delivers healthy portions of love and laughter for all ages to enjoy! Fun, smart, high energy music with a positive message that connects with kids & adults. We're interested in giving kids the opportunity to experience "Live" music with their parents. It's absolutely a "Family Event" designed to be interactive, inspiring and safe for all ages, creating moments for families to take home as memories.
---

The Big Band Sounds of Dwight Lenox and the Lenox Avenue Express
Saturday, August 16, 9–11pm, Main Stage
From blues to ballads and jazz to swing, Dwight and the Lenox Avenue Express shines. Their impeccable instinct and mellow sound have garnered the attention of some of the finest musicians in the industry.
Dwight's fluid style lends itself to a vast repertoire from Nat King Cole, Frank Sinatra, James Ingram, Stevie Wonder, Lou Rawls and many more. But his raw abilities are uniquely evidenced in his performance of original music. Come on out and enjoy this great 8 piece swing band. You'll think you're in a high priced nightclub in NYC instead of the Pemberville Free Fair!